In june 2013 I started a new MOOC on Coursera: Introduction to art: Concepts and techniques by StatePenn. I just love MOOC's. Anyway, I thought it would be nice to place my assignments in this part of my site. So, here's the second assignment.
Assignment details
For this assignment we are asked to create our own temporary site-specific environmental installation.  It is meant to convey our relationship to the selected space and site, as well as our creativity. We have to recall the unusual approaches to nature of the environmental artists. Their imagination and understanding of nature resulted in striking unions of color and space. They defied gravity, transformed the landscape, assembled small-scale private installations, and even changed their personal appearance and became part of their work.
My artist statement
Each week, we have to upload an artist statement, stating how the art work was made, what the story behind it is and why you create it. So, below is the artist statement I posted:
The story behind it
My art piece stands for the beauty of nature. Its colors, its forms… I wanted to add to that even more, by bringing extra color to it and showing its ever changing nature (by letting it 'walk'). The piece is interesting from every angle you look at it. It attracts attention and complements the garden. It took about two days to finish this work and is it okay to say that I'm terribly in love with it myself? Well probably not, but I really am :-). It was kind of hard to leave it at my parents house, but my mum is totally in love with it. So I decided to make some future artwork for my own garden!
Why I created it
Last year I trimmed one of the bushes in the garden of my parents. Actually that was about 1,5 meters behind te place I put my new artwork in :-). What was left after trimming had such a great form, that we decided to keep it and decide what to do with it later. So when we got this assignment, I thought of several possible artworks, but this bush kept sneaking into my mind. My parents garden is really beautiful, but at the moment it lacks some serious color. So, I thought to combine the two. The colors I chose are very bright. Every branche got its own basic color scheme: black and white, yellows, greens, blues, reds and purples. As I love black and white patterns (I try to include them in all of my work, it's kind of my thing), one of the branches got the graphic black and white pattern. One of the great things is that it will be 'destroyed' over time by the natural elements. But that will take a long time probably. I'm very curious to see what will happen with it over time. At least for now it will give a lot of color to the garden and it attracts a lot of attention.
How it was made
I took the bush and decided which of the branches I would make black and white. First I painted it white. Then I decedid which of the branches would get each color range. Then I painted each branch with different color hues. The final touch was adding the black. All the painting was done with acrylic paint. When placing it where I wanted it to be, I tried several positions of the piece. I ended op with the one I photographed. It looks like the bush is walking on intself, which I very much like.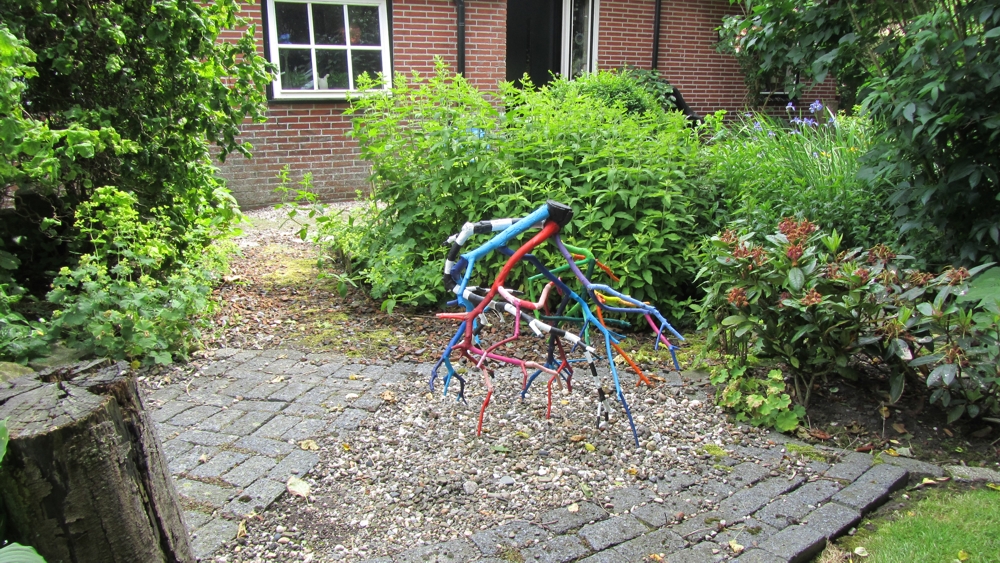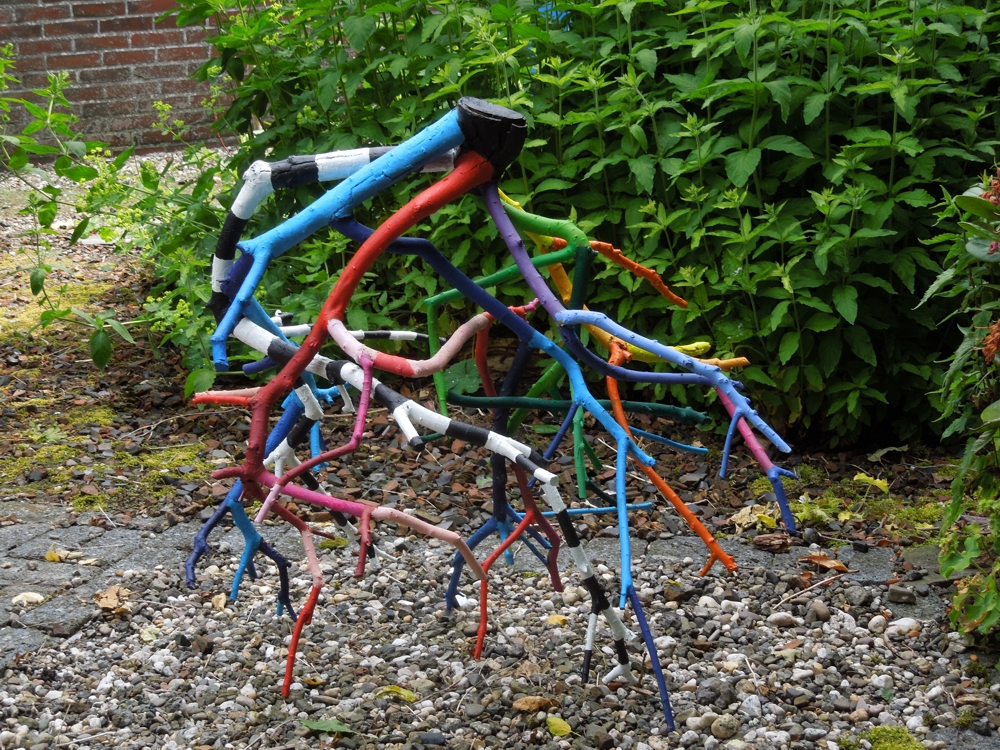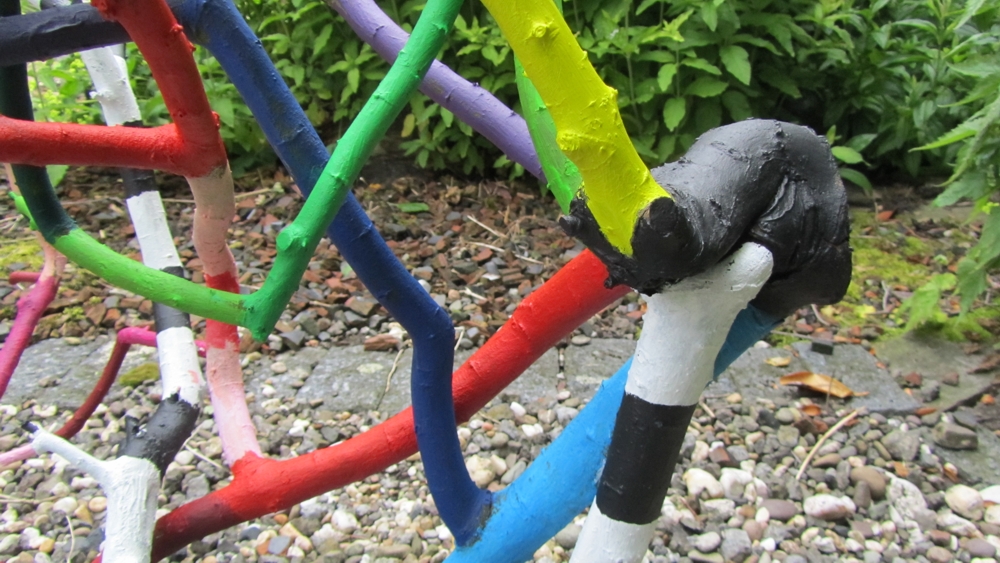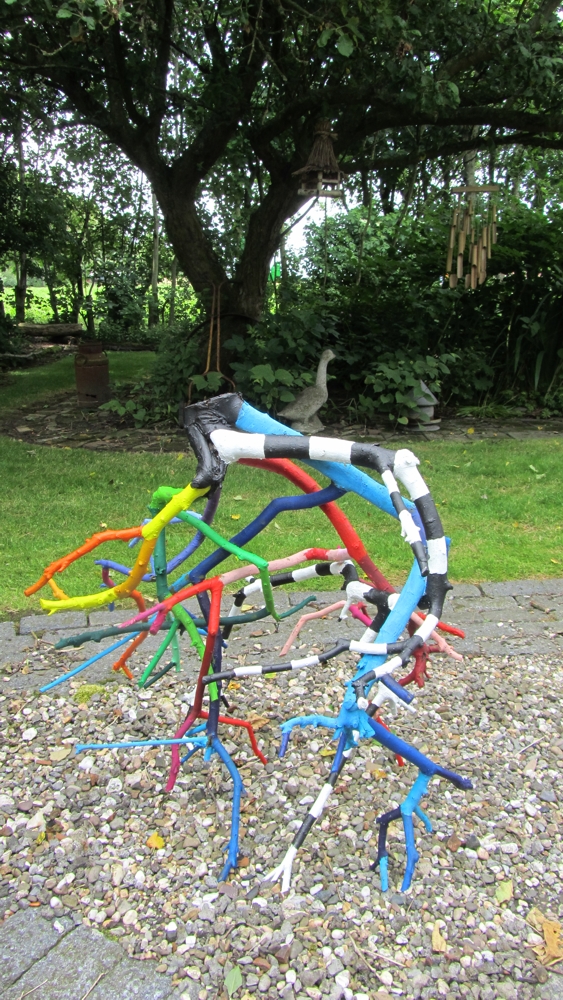 Peer assessment (not in yet!)
Every week, a minimum of two students perform a 'peer assessment' of each others works. First, there is an overall evaluation/feedback on five issues (5 points each, a total of 25 points possible) and the possibility to add additional comments or feedback.
The five standard issues
1. Concept, the idea behind your art piece, ability to be creative and telle stories through images. I scored ? out of 5.
2. Technical skill, your ability to use art elements, mediums and techniques. I scored ? out of 5.
3. Composition, placement of image whitin picture plane and use of space. I scored ? out of 5.
4. Craftsmanship/presentation, the quality of your application and use of various tools and mediums; visibility of your artwork. I scored ? out of 5.
5. Artist statement, the description of your artwork, the story behind it; explains your intentions for creating the artwork. I scored ? out of 5.
The additional comments or feedback I got
The comments are not in yet…